Solid Medium Brown
A reserve SUPREME CHAMPION and winner of four colour championships at major shows including The World Alpaca Show and British Alpaca Futurity
A true to type macho with outstanding fleece characteristics.
Full details below
Service Fee £850
More Information
Herts Alpacas Nigel is a product of our highly acclaimed breeding programme. This stunning solid medium brown macho really has it all.
Nigel's fleece exhibits great uniformity with long, dense, extremely fine, crimpy, well aligned bright bundles which are even in colour throughout the blanket and into his extremities. He has amazing coverage from top to toe.
Nigel is one of those 'stand alone' males that commands the respect he has been given, both in the show ring and in the field.
The mere visual impact of him demands a closer look being a true to type macho with a strong boned frame, amazing fleece characteristics and a lovely temperament.
Fibre Stats
| | |
| --- | --- |
| 2nd Fleece 2011 | Micron 17.4 SD 4.0 CV 23.1 CEM 7.86 CF 99.3 SF 17.3 Curve 37.5 |
| 3rd Fleece 2012 | Micron 20.6 SD 4.6 CV 22.3 CEM 8.76 CF 96.6 SF 20.3 Curve 43.9 |
| 4th Fleece 2013 | Micron 23.1 SD 4.9 CV 21.1 CEM 8.85 CF 93 SF 22.5 |
| 5th Fleece 2014 | Micron 24.2 SD 4.8 CV 19.9 CEM 9.19 CF 90 SF 23.3 |
| 6th Fleece 2015 | Not tested |
| 7th Fleece 2016 | Micron 24.3 SD 5.1 CV 21.0 CEM 9.30 CF 88 SF 23.6 |
All fibre testing carried out by SGS
Herts Alpacas Nigel has an outstanding pedigree which includes names like Purrumbete Inti, Purrumbete Highlander, Benleigh Highland Lass, Purrumbete Sweet Freedom and Cedar House Brave Heart.
His dam Zanita a full Peruvian, is one of our finest breeding females, her 12th fleece (2013) was still only 22 micron.
Zanita is also the dam of our award winning full Peruvian herd sire Herts Alpacas Nelson
Awards
2011 1st BAS National Junior Brown Male
2012 1st British Alpaca Futurity Intermediate Brown Male
2012 Colour Champion British Alpaca Futurity
2012 1st World Alpaca Show (WAC) / SWAG Intermediate Brown Male
2012 Reserve Colour Champion World Alpaca Show (WAC) / SWAG
2012 1st The South Of England Show Intermediate Brown Male
2012 Colour Champion The South Of England Show
2013 1st The South Of England Show Adult Brown Male
2013 Colour Champion The South Of England Show
2013 Reserve SUPREME CHAMPION The South 0f England Show
2014 Not shown
2015 The BAS National show 1st Senior Brown Male
2015 The Heart of England Alpaca Fiesta 1st Senior Brown Male
Heres what international judges Natasha Clark and Catherine Lloyd said about Nigel at the 2015 BAS National show:
This male is the complete package!

Even as a senior he is still showing a high frequency crimp with great definition and even micron down through the brisket and even the legs, excellent coverage with great length.
Pictured below Herts Alpacas Top Tottie sired by Nigel reserve champion brown at the BAS National 2016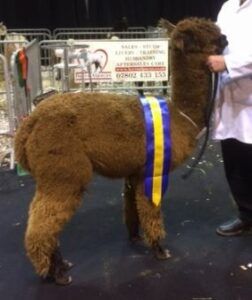 Top Totties 1st fleece stats 2015: Micron 15.9 SD 3.3 CV 20.6 CF100%
Nigel is a breeders dream putting his stamp on all his progeny carrying through his stunning frame, excellent fleece characteristics and lovely temperament.
His progeny were well placed at the BAS National in 2015 and 2016 and his first daughter Top Tottie was awarded reserve champion brown female in 2016 ( Top Tottie picture above at The National 2016 age 20 months )
Herts Alpacas Brexit (picture below)1st Intermediate and Champion fawn female at South of England show 2018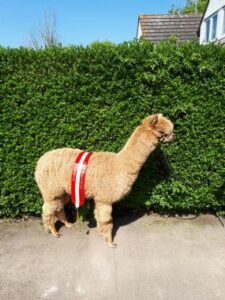 "Congratulations to Spring Farm Alpacas on their 2018 Black Reserve Champion Male Herts Alpacas Phoenix sired Nigel"
Other Nigel progeny to have excelled in the show ring are
Yew Tree Harriet Reserve Champion
Herts Alpacas Mandinka Warrior ( Black herd sire at Dreamcoat Alpacas)
Herts Alpacas Baby Belle
Herts Alpacas Rain Man
Moat Farm Eachann, Moat Farm Drusilla
Albury Hercules
Berryfield Chance