Herts Alpacas have some of the finest studs available in the country to enable you to improve the quality of your herd with proven bloodlines and quality genetics from around the world.
We'll gladly advise you on stud selection to help you achieve improved progeny from your dams. Whether you're looking to improve on particular fibre characteristics or conformation, we can help you achieve all the goals you're aiming for from our selection of elite, award winning herd sires.
* NOW AVAILABLE! our efficient and reliable mobile service (we come to you),
* Drive – by matings also available.
* Competitive prices
* High levels of bio- security
* All matings guaranteed
* Special discounts available for new customers and block bookings, please ask for details.
Make the right choice and it's an investment !
Here at Herts Alpacas we are proud of all our award winning herd sires. They are all from world renowned bloodlines and we are pleased to show you ALL of their fibre stats so you can see just how well they are consistently holding their show winning fibre characteristics. Even more importantly progeny are also available for you to see how these desirable traits are being passed on to their cria.
We appreciate the investment you make when choosing to cover your females with outside males, so to help you reap the rewards from that investment we are happy to help you in every step of the selection process analysing bloodlines, fibre and conformation traits and even help you in setting up a breeding program, our ultimate aim is to achieve your goals from your stud male selection. We offer a punctual, reliable service backed up with regular re-visits at times to suit you.
To support our live cria guarantee we offer all our customers a free birthing course and ongoing support to give you peace of mind when and after your newborn cria has arrived.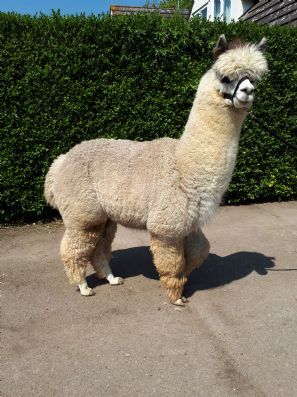 Herts Alpacas Grey Aramist
New to our stable of elite award winning herd sires Aramist is the only Grey male in the UK to boast both Long John and Nyetimber genetics.
Long John and Nyetimber are two of the worlds most influential grey herd sires and their positive traits are clearly displayed in this stunning adult classical steel grey male.
Herts Alpacas Grey Aramist
First fleece stats
Micron 15.6 SD 3.4 CV 21.7
Comfort factor 100 %
Picture shown Aramist at 3 years of age in 2018
Click on the link below for full details of Aramist and all our other elite stud males.