Solid Light Brown
Rococo has been awarded a supreme fleece championship and has won multi halter show championships including the BAS National.
Full details below
Service Fee £750 – Strictly limited services available
More Information
The first time we saw Rococo was at the BAS National in 2017.
Watching from the stands we just new he was going to be a colour champion.
At this point it was purely his strong compact frame evenness of colour, beautiful head style and abundance of fleece which caught our eye, but obviously his fleece was rather tidy too!
He was so impressive we hankered after this male for years. At 8 years old he is still as awesome as ever to look at and pleasingly his extremely dense fleece hasn't gone off either.
With an SD of 4.2 at 8 years old we are delighted with the evenness in micron and lack of primaries he is exhibiting. He's still growing an abundance of fleece all over and looks and feels like the champion he is.
He is easy to handle, has a pleasant nature and a list of positive traits that can only enhance any breeding program.
Genetics
Rococo has a very strong Peruvian heritage combined with some of the world's finest genetics from the USA and Canada and New Zealand his genetics boast names like Dovecote Jaquito and Benleigh Talisman.
| | |
| --- | --- |
| 2021 (7th fleece) | Mean 26.1 SD 4.2 CV 16.1 CF 86.2 |
Fibre Testing Authority AAFT
Main Halter Show Results
2017 BAS National 1st Adult Brown Male
2017 BAS National Champion Brown Male
2017 Devon County 1st Adult Brown Male
2017 Devon County Champion Brown Male
Main Fleece Show Results
2016 Three Counties Show 1st  12 – 24 months fawn fleece
2016 Three Counties Champion fawn fleece
2016 SWAG Group 1st 24 – 48 month Brown fleece
2016 SWAG Group Champion brown fleece
2017 SWAG Group Judges choice Huacaya
2017 North Devon Fleece show 1st Brown fleece 24 – 48 months
2017 North Devon Fleece show Supreme Champion Fleece
National Progeny Class
2019 BAS National 3 progeny by one sire 2nd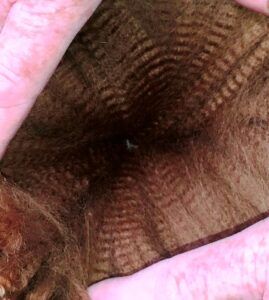 Rococo 2017 fleece shot – 3rd fleece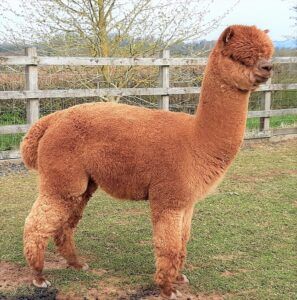 Rococo 2020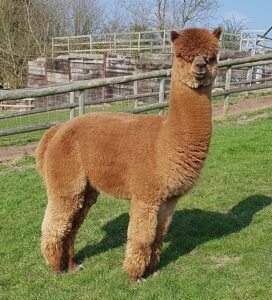 Rococo 2022