Stunning Mid Silver Grey
Top New Grey genetics, extremely fine & dense.
Latest fleece results: 2021 5th FLEECE ONLY 21.1 micron SD 4.4 CV 20.8 CF 97
Full details below
Service Fee £1,200 – Currently In house only – Not available for outside services
More Information
At last we have finally found a grey male that ticked all our boxes.
After years of searching we saw Blaine at the BAS National in 2019 and knew he was the male for us.
No compromise needed or fibre stats (though they are pretty impressive), this male stands out as being the most impressive grey male we've seen in our quest for a new grey herd sire to use in our grey breeding programme.
To start with his conformation sets him apart from others. He is well built, in perfect proportion with strong bone and no defects. All enhanced by his beautiful head style, even colouring and a great fleece length and coverage.
Moving onto the fleece …. The fibre stats back up what we saw and felt when we first met Blaine. He is very dense, very fine and even in his fineness.
He has a very low percentage of primary fibres and cuts a very heavy, stylish fleece full of high frequency, high amplitude crimp from skin to tip.
To top it all Blaine works enthusiastically and productively and has a lovely temperament.
Finally when it comes to bloodlines, Blaine offers a new opportunity to those looking to breed elite grey alpacas. Sired by Houghton Noah ll a stunning grey male who has produced a number of top champions and Blaine's dam is a top Australian import Cedar House Britannia.
In fact Blaine's pedigree is unrivalled boasting famous names including Cedar House Brave Heart, Purrumbete Inti, Purrumbete Highlander, Purrumbete Sweet Freedom, Purrumbete Ledgers Dream, Running Creek Missouri, Jolimont Ruffino, Peruvian Hemingway and Snowmass Peruvian Escabar.
Blaine date-of-birth: 15th June 2016
| | |
| --- | --- |
| 2nd Fleece Stats 2 Years old 2018 | Micron 16 SD 3.4 CV 21.3 Comfort factor 100% length of fibre 120mm |
| 3rd Fleece 3 years old 2019 | Micron 18.6 SD 4.2 CV 22.6 CF 99% CEM 8.4 |
| 4th Fleece 4 years old 2020 | Micron 19.7 SD 4.3 CV 21.9 CF 97.8% CEM 8.7 |
| 5th Fleece 5 years old 2021 | Micron 21.1 SD 4.4 CV 20.8 CF 97% CEM 8.9 |
Fibre Testing Authority AAFT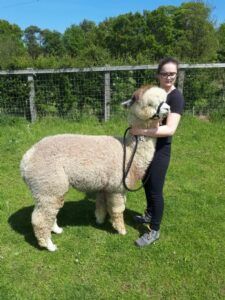 Blaine May 2019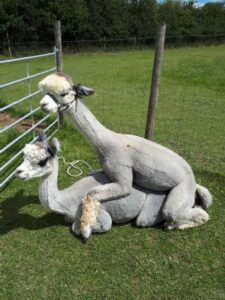 Blaine Covering Herts Alpacas Mrs Pepper Pot 2019